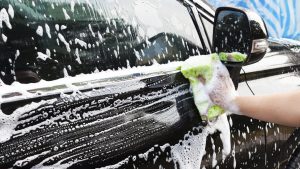 Auto Line

Prodotti per la detergenza di auto, studiati per rimuovere al meglio sporco e fango. I nostri detergenti non corrodono o attaccano la vernice dell'auto, ma semplificano il lavoro di rimozione dello sporco rendendo la rimozione più semplice, evitando i graffi e le corrosioni .
Truck Wash

Truck Wash is a superconcentrate alkaline detergent for industrial use, suitable for the removal of all types of greasy dirt, even the most tenacious. The high detergent and degreasing power guarantees maximum cleaning even in the most difficult conditions. Intended primarily for the external washing of heavy vehicles, it is extremely effective on chassis, sides, rims, wheel arches, etc.
Tanica da 10 Kg
Tanica da 25 Kg
Train Sgrass

Special degreasing detergent for trains, coaches and vehicles in general
Sgrass Train is a neutral detergent ideal for all types of paints. Thoroughly cleans the body of trains, coaches and vehicles in general, leaving it bright and releasing a pleasant strawberry scent.
Deter Car

Deter Car is an alkaline concentrated detergent designed to wash the external surfaces of vehicles, removes any type of dirt, grease, smog and soil, always guaranteeing maximum respect for the bodywork and the plastic parts. Particularly suitable for washing tarpaulins, tents, caravans and campers, it can be used to remove heavy dirt from engines and mechanical parts.
Tanica da 10 Kg
Tanica da 25 Kg